Day Before UPSC IAS Exam. Manage Your Stress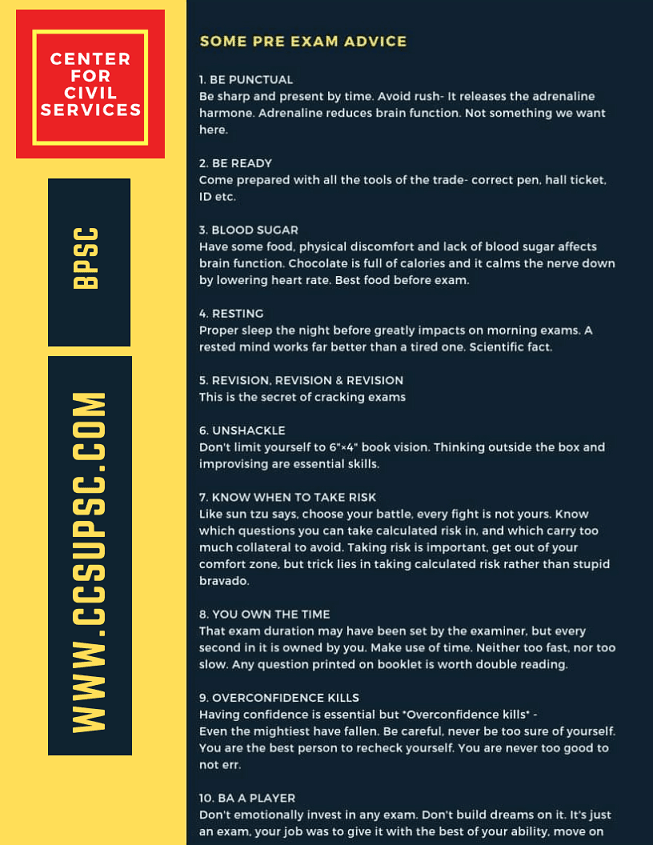 Appearing for IAS Exam? The stress keeps on increasing as you near the D-Day for Civil Services Exam. It's essential that you manage this phase well. Specially Crucial to the performance are last 2-3 days leading upto the exam. Crumbling under pressure can cost you your UPSC CSE attempt.
if this is your first attempt, let me start off by telling you that you are not alone in feeling stressed. Even UPSC CSE veterans feel the same way. It's natural to be stressed about performance. Infact optimal performance is achieved under a controlled stress.
Read on for some last day tips and exam advice for optimal performance.
It's All In The Head: Some Pre-Exam Advice
---
1. Be Punctual
Be sharp and present by time. Avoid rush It releases the adrenaline hormone. Adrenaline reduces brain function and brain hates that
2. Be Ready
Come prepared with all the tools of the trade like correct pen, hall ticket, ID etc.
3. Blood sugar affects brain
Have some food, physical discomfort and lack of blood sugar affects brain function. Chocolate is full of calories and it calms the nerve down by lowering heart rate. Best food before exam.
4. Resting and Recharging
Proper sleep the night before greatly impacts on morning exams. A rested mind works far better than a tired one. Scientific fact.
5. Revision, Revision and Revision
This is the secret of cracking exams
6. Unshackle the brain
Don't think in 4″×7″ book frame. Books are just a medium. The information is out in real world. What you learnt in geography will be applied in solving a history question, and what you learnt in history may apply in solving an economics or polity question. Think outside the box. Knowledge is useless unless applied in real world.
In this exam, you won't know the answers but you can deduce it. I hope you understand the complexity of exam you are giving. That's how it goes.
7. Know when to take risk
Like sun tzu says, choose your battle, every fight is not yours. Know which questions you can take calculated risk in, and which carry too much collateral to avoid. Taking risk is important, get out of your comfort zone, but trick lies in taking calculated risk and not stupid bravado.
8. You own the time
Every other exam parameter is outside your control except the time in it. That exam duration may have been set by the examiner, but every second in it is owned by you. Make use of time. Neither too fast, nor too slow. Any question printed on booklet is worth double reading. Utilize every last bit of it. In this test, you don't know the answer you deduce it. Time is your weapon.
9. Having confidence is essential but overconfidence kills
Even the mightiest have fallen. Be careful, never be too sure of yourself. You are the best person to recheck yourself. You are never too good to not err. Take your time understanding the question. History bears evidence a simple miss of word NOT has cost people the exam.
10. Be a player
Don't emotionally invest in any exam. Don't build dreams on it. It's just an exam, your job was to give it with the best of your ability, move on to next exam. That's it. Whatever comes the result, shouldn't hurt you. Man-up and face it.
11. Solitude is better than a draining company:
After first sitting, you will find many "Maine 80% maara hai" types. Avoid discussions about 1st paper. Better spend time alone somewhere near the center. Rest, Eat/Drink, Think and mentally prepare yourself for CSAT. Remember CSAT will require a totally different strategy as you are going to feel time crunch there. Play safe, Don't overdo it. No need to attempt 90% questions. Just make sure you are confident in crossing 50% certain.